Orchid Restaurant & Cooking Class
Traditional culinary culture is a natural culture in daily life. For Vietnamese people, cuisine is not only a material culture but also a traditional spirit culture. Through the beauty of cuisine, you can understand more about Vietnamese culture, clearly showing the dignity of the people, the culture level of the nation with moral principles, rules as well as customs in the way of eating in our country…
Traditional Vietnamese cuisine is an indispensable beauty in our country. It need to be developed to friends of the world for that they can know and perceive. Below NGUYEN MINH TIEN chef and owner of 2 restaurants: Blue Butterfly Restaurant & Cooking class and Orchid Restaurant & Cooking class with nearly 15 years in the culinary industry, he has shared about the beauty of traditional culinary culture of Vietnamese people.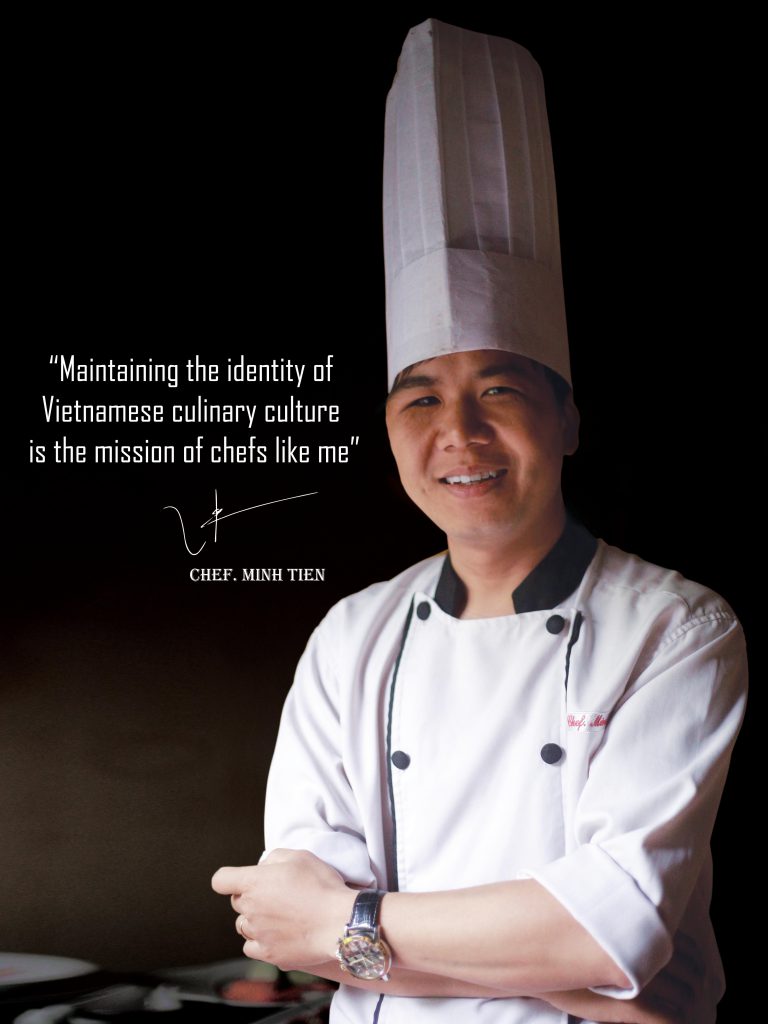 Traditional Vietnamese culinary culture
Traditional Vietnamese cuisine is known for many features such as: Integrity, diversity, low fat; charming with many spices, attractiveness in each dish. Eating on a tray or using chopsticks or especially in an indispensable meal of white rice is a general custom of the Vietnamese.
In addition to the common features of cuisine, each region is characterized by regional cuisine:
Northern cuisine:
Northern dishes often taste moderately, not too strong but have quite colorful, often not bold, fatty, sweet, mainly using slightly diluted fish sauce or shrimp sauce. Hanoi is considered the culinary elite of the North with many delicious dishes such as soup noodle with beef or chicken "pho", spring rolled " nem", bun thang, charcoal grilled pork with vermicelli "bun cha", snail vermicelli, green rice flakes in Vong village or Thanh Tri rolls or special spices such as belostomatid oil, Vietnamese basil.
Central Cuisine:
Back to Central of Vietnam, people prefer to use dishes with a richer, stronger tasty. Distinctness can be expressed through special flavors, more spicy dishes than Northern and Southern cuisine. Mixed colors are quite rich, brilliant, favoring red or dark brown. Central cuisine is often famous for sour shrimp paste or fish sauce. Hue royal cuisine has a lot of special features, with royal cuisine style not only very spicy, very colorful but also focuses on the variety of dishes, the layout of dishes.
Southern cuisine:
Due to many influences from Chinese, Cambodian or Thai cuisine, dishes of Southerners is often have sweetness and spicyness. Popular with all kinds of fish sauce such as: fish sauce, beef sauce, crab sauce … There are many rustic and typical dishes such as: steamed bat, cobra be cooked with green bean porridge, soil weevils, coconut tree weevils, grilled snakehead fish …
Cuisine of ethnic minorities:
Every ethnic minority has its own unique identity. Famous as a raw pork dish in the Central Highlands, egg rolled (Cao Bang, Lang Son), Tay's "coong phu" cake, roasted young pig and duck with " mac mat" fruit, " khau nhuc" of Lang Son, sour noodles, baby bee porridge,… Cuisine expresses Vietnamese cultural and spiritual traditions
The spiritual culture of Vietnam in cuisine is the expression of beauty in communication culture, the behavior between people with people during meals, to please each other through the elegant behavior, . Eating must have certain rules, from oneself, to family or social relationships.
Each of us have to must know how to preserve and be cautious while eating, as well as always uphold our own honor through proverbs: "eat in pot, sit in the direction", or "eat must chew, speak must think"
In the family:
Eating together tray, prioritizing delicious food for the elderly, small children, "the previous adult, and then the child" shows respect and affection between family members. The daily meal is also considered a busy meal, people gather together to enjoy it after a hard working day.
Socially:
Inviting guests to the home shows the tradition between people and people in society. When having the opportunity to organize meals, homeowners often make a lot of delicious food to treat guests. Homeowners often pick food up to invite guests, avoid eating before guests, and have a warm smile, an invitation to eat more when customers stop eating. The meal is not only a fun but also a show of the hostess's hospitality that is typical of Vietnamese people.
We are always listening, we are always trying, and we will act for you.
Any further questions please contact us by:
Address: 25 Hang Bac Street, Hoan Kiem District, Hanoi